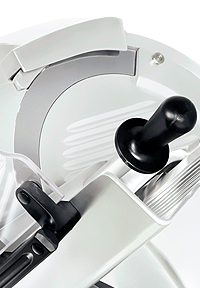 Food Slicers
Models CB, GF and CF: gravity fed food slicers: designed to cater for a variety of slicing requirements. Each model is engineered for reliability, ease of use and cleaning.
Models TG: vertical blade slicers: are ideal for fresh meat and perfect to obtain consistent and even slices, in particular with products such as Parma ham and bacon.
Belt driven transmission: models GF, CB and TG.

Heavy-duty gear driven transmission:

models CF.
Fully silent, high precision machines with smooth sliding trolleys.
The quality of the blades guarantee perfect slicing.
With an incorporated double action sharpener: to sharpen and hone slicing.
Constructed in anodized aluminium.
They meet EC regulations.
Product List
TECHNICAL COMPARISON