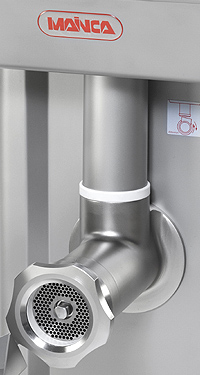 Meat Mincers (Grinders)
Available in two different cutting systems:
ENTERPRISE (single cut) in sizes 12, 22 and 32
UNGER (single, double and triple cut) in sizes 70, 82, 98 and 114
The latest PC meat mincers combine a unique and innovative design with excellent features.
The inside of the opening is a state-of-the-art design increasing the mincing performance owing to the careful design of the feedscrew and a greater diameter. Uniform and continuous output of meat through the mincing head.
The design of the outer mincing head fully avoids heat transmission to the meat. Its side fastening system by means of a single lever is easy and quick to dismantle for cleaning.
Reliable and strong oil-immersed gear drive and powerful motors with high overload capacity suitable for mincing all types of meat.
Construction: fully constructed in stainless steel 18/10 (except for some specific models with anodized aluminium mincing head).
They comply with EC regulations.
Product List
TECHNICAL COMPARISON