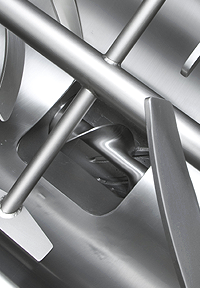 Mixer grinders (Mincer Mixers)
Two in one. These are automatic feeding mincers (much faster than manual feeding mincers). They are also suitable for mixing and seasoning.
Ideal to make seasoned minced meat or dough for cold meats and burgers in the same machine.
Available with two cutting systems:
ENTERPRISE 32 (single cut) and UNGER 98 (single, double and triple cut).
Uniform and continuous output of meat through the head. The design of the outer mincing head of the machine fully avoids the transmission of heat to the meat.
Reliable and strong gear drive and powerful motors with high overload capacity suitable for mincing all types of meat.
Construction: fully made of stainless steel 18/10.
They comply with EC regulations. Version MG-95 INT comply also with the NSF / ANSI 8 American health certification.
Product List
TECHNICAL COMPARISON