MG-95 HYBRID
Mixer grinders (Mincer Mixers)
Available in two cutting systems:

ENTERPRISE 32 (single cut)
UNGER 98 (single, double and triple cut)

Construction: Fully made of stainless steel 18/10.
Version MG-95 INT has the NSF / ANSI 8 American health certification.

Mincer Drive: heavy duty oil-immersed gear drive.
Mixer Drive: very silent gear motor.
Bowl capacity in litres: 95 l ( ± 65 Kg).
Production: ± 1500 Kg/h (first mince).
It features mincing head guard with safety switch and digital programmer to programme different mixing cycles.
It may incorporates a pneumatic portioning device for automatically packing minced meat in trays (see photos and options below).

2 independent Motors:
Mincing Motor power: 5,5HP / 4kW
Mixing Motor power: 1.75HP / 1.3kW

Three phase version (230-400V 50Hz / 220V 60Hz) or single phase version (230V 50Hz / 220V 60Hz).

Base dimensions: 82 x 54 cm.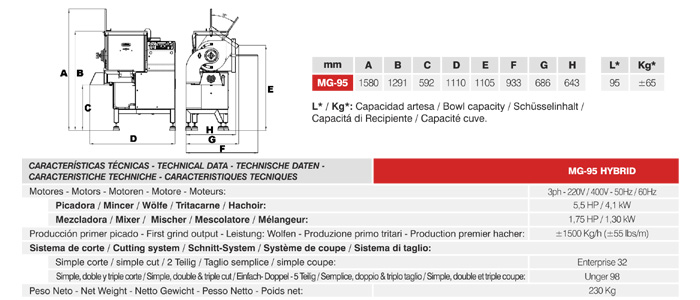 Foot switch (only for three phase motor version).
4 Swivel Castors (2 with locks).
Pneumatic portioning device PR-50 for automatically packing minced meat in trays (see photos).
Optional conveyor belt for portioning device PR-50.
The MG-95 HYBRID is a highly versatile machine which adapts to all working methods.

Why the HYBRID? It has all the advantages of 3 different machines:

Automatic feed mincer.
Traditional mincer-mixer.
Kneader Mixer with forward and reverse paddle action.

This is a very innovative machine that is unique in the meat industry, as there is no other mincer-mixer on the market with a sealable tilting bowl to empty the product.

Can you imagine using your mincer mixer to make all types of sausage meat and burgers with maximum quality avoiding

over-mixing and over-mincing of meat?
There's no need to imagine any more. It is called MG-95 Hybrid, and is probably the most versatile machine of the meat industry.