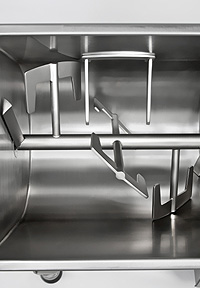 Kneader Mixers
Suitable not only for the meat industry but also for hotel and catering to dress salads, mixing and seasoning, etc.
Double rotation of paddles: in one direction they mix the ingredients and in the other they knead, eliminating the air inside the dough.
Uniform mixing and kneading without air pockets, which is essential for dry cured sausages.
It can work both with a small amount or fully loaded.
High absorption of liquid. The mixers can, with breaker bars removed, double as massaging/marinating machines on chicken breasts, boneless pork chops or beef steaks
T-shaped mixing paddles are manually dismantled without the use of tools.
Tilted bowl to empty the product.
Construction: fully made of stainless steel 18/10.
They comply with EC regulations.
Product List
TECHNICAL COMPARISON