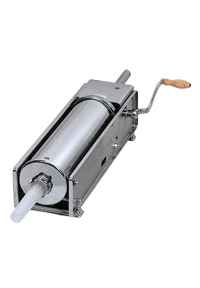 Manual sausage fillers
Fully manual models.
Ideal for home-made type products (slaughter and hunting)
Easily detachable for cleaning.
With 3 working speeds (two forward and one reverse).
Maximum sealing between the piston and meat cylinder.
The piston incorporates an air vent valve and is equipped with a silicone O-ring.
Meat is very easy to load.
Operators easily adapt to the machine.
Equipped with 4 plastic nozzles of 10, 20, 30 and 40 mm outer diameter.
Construction: in stainless steel except for the gearbox and rack (made of hardened carbon steel) and meat piston (made of mopPLen plastic).
Product List
TECHNICAL COMPARISON