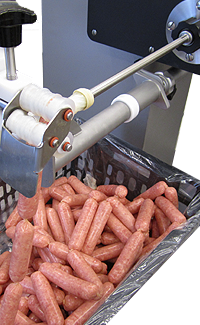 Twist Linker
Automatic portioning-twisting device of sausages.
Easy connection to any hydraulic piston filler/stuffer by means of the nozzle nut. No electrical connection is required.
Suitable for all types of doughs, both fine emulsions and coarse minced products.
It works with natural, collagen, polyamide or cellulose casings.
The number of twist on the nozzle is fully adjustable as well as the nozzle speed and the portion size (from ±15 g to whatever you need).
Approximate production: ±1 sausage per second (up to 250 Kg/hour).
Single-phase motor: 230V 50Hz / 110V -220V 60Hz
They comply with EC regulations. Version PR-360 INT has the NSF / ANSI 8American health certification.
Product List
TECHNICAL COMPARISON