The new twist linker PR-360 is an excellent machine, which will undoubtedly mean a change for small and medium sausage producers. Make the most of your sausage filler with the help of this equipment.

Easy connection to any hydraulic piston filler/stuffer by means of the nozzle nut. No electrical connection is required.

The PR-360 portions and twists the casing at the same time the sausages are filled, saving precious time and skilled labour costs. In other words, a machine that pays for itself in a very short time.

The number of twist on the nozzle is fully adjustable as well as the nozzle speed and the portion size (from ±15 g to whatever you need).

Approximate production: ±1 portion per second (up to 250 Kg/hour).

Suitable for all types of doughs, both fine emulsions and coarse minced products.
It works with natural, collagen, polyamide or cellulose casings.

Optional automatic hand to run fully automatically when using collagen casing.

Constructed in stainless steel 18/10 and polyethylene.
They comply with EC regulations Model PR-360 INT models comply with NSF / ANSI 8 American health certification.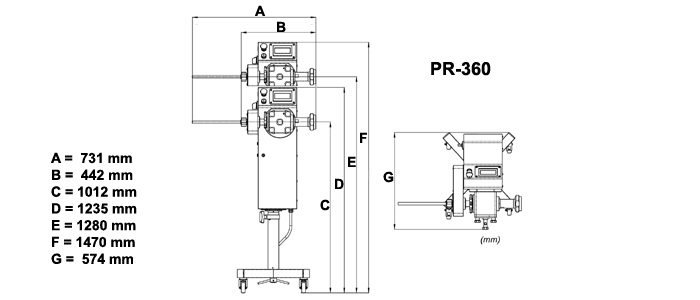 Equipped with 3 stainless steel nozzles of Ø 12, 15 and 17 mm. (Optional diameters of: 11 and 20).
Stuffing rubber cones. There are different rubber cones to fit with all casing calibers for ease of twisting (from 18 to 36 mm diameter).
Outer sleeve (double nozzle) for use with natural casing (different sizes)
Automatic hand 2PR36MM to run fully automatically when using collagen casing.