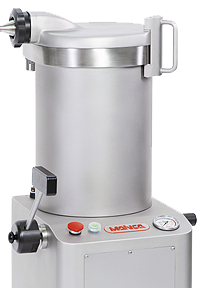 Sausage Fillers / Stuffers
Strong and reliable hydraulic sausage fillers, ideal for the meat and /or food industry (with separate oil tank).
Fixed cylinder with inner grinding and individual adjustment of each meat piston to ensure maximum sealing and precision.
Speed and working pressure are easily adjustable through the adjustment knob. Automatic piston decompression on releasing the knee lever to shut off the output of the product through the nozzle.
Smooth outlet of the product avoiding spattering and loss of colour of the meat.
Removable piston for easy cleaning.
Equipped with 3 stainless steel nozzles Ø 15, 20 and 30 mm. (Optional diameters of: 12, 25 and 43 mm).
Stainless steel cylinder base ensures no corrosion can occur inside.
Fully made in stainless steel 18/10 except the lid and piston which are in anodized aluminium. Lid and piston can optionally be made in stainless steel 18/10.
They comply with EC regulations. Specific INT models comply with NSF / ANSI 8 American health certification.
Product List
TECHNICAL COMPARISON